This is one of my favorite pieces of art: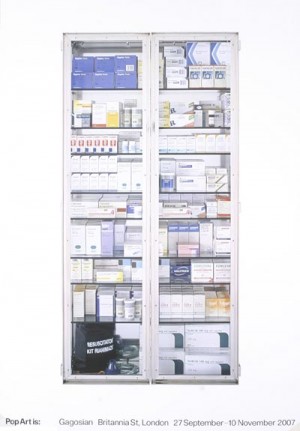 It's Damien Hirst's My Problem is You.
I stare at it every day as I'm putting on my face creams (a four-step process lately), as it is displayed in our master bathroom. It never ceases to amaze me how many different kinds of drugs are in this cabinet. And their names! Floxacin. Temazepan. Some of the drugs I recognize (Valtrex: who could forget those commercials?). Some I've seen from my dad's chemo regimen. (Didn't he take Fluorouracil?)
I mostly love the juxtaposition of all the prescription drugs with the title: "My Problem is You."
Every time I look at it, it makes me think of something new: anxiety, depression, sadness, cancer, hope in a jar, the health care industry, pop art, which then makes me think of my dad, or my work, or Andy Warhol, or how lucky I am that I don't suffer from any ailments that require me to take any drugs. My family had only one way to deal when life got difficult. Can you guess? As Paul Rudnick said so eloquently in "I'll Take It" – "We worked it out in the sale rack."
My dad went through the highs and lows of cancer with very little mood-changing or mood-lifting pills, much like he weathered all the changes in his life. (And needless to say, he was a shopper.) He was a naturally happy person, a raconteur, he'd once been an investment banker with his own fund as well as a cafeteria operator at Sears, he was a CEO and an immigrant, he loved limousines and gossip rags, New York City, fancy hotels, mall Chinese food, thrillers, the Ivy League, and us, and not in that order. When we learned the disease had finally arrived at its final stages, his first words to us were "Don't despair."
Two days before he died, he was joking with us that the nurse who prayed the rosary with him who kept getting the words wrong. He kept telling me to Stop Crying. He wanted us to be happy and to remember him like he was: dancing at our weddings, teasing us, laughing as he picked up a pair of chopsticks (he had a particular fondness for meals that required chopsticks), all those marathon poker games where he'd bluff to oblivion.
It is so freaking hard to Stop Crying.
But I try to remember. Don't despair.
And so instead of drugs in a medicine cabinet, we have a picture of them framed on the wall.
It's a very reasonable piece of art, it's just a poster, and if you want one the Gagosian will sell you one happily, online even, unlike say, if you want to buy an original Jeff Koons, you can't, since they "place" them with only the right museums or collectors—as in, vulgarians need not apply according to the delightfully snobby art dealer.
I never know what looking at it will make me think about, and that's the fun of it.
xoxo
Mel