Good reviews never get old.. 🙂 Thanks, Booklist!!
Witches of East End.
de la Cruz, Melissa (Author)
Jun 2011. 288 p. Hyperion/Voice, hardcover, $23.99. (9781401323905).
In YA novelist de la Cruz's adult debut, the Beauchamp family witches—mother Joanna and daughters Freya and Ingrid—have lived in the coastal North Hampton, Long Island, for centuries, forbidden to practice magic. Tired of hiding their true natures, all three eventually slip. Freya magically spikes a cocktail to save a marriage, Ingrid does a spell to help a friend conceive, and Joanna makes toys come alive to entertain her housekeeper;s child. Soon they're practicing magic as in the old days. When dead animals, missing people, unexplained sickness, and toxic ocean sludge beset their town, however, they face judgment as in the old days, too, unless they discover how the evil is linked to the Gardiner brothers, Bran and Killian. De la Cruz combines witches, vampires, zombies, and Norse mythology in a twisting, fast-paced urban fantasy. Necessary parts of the Beauchamp family's backstory come too late, making some elements of the timeline confusing, but de la Cruz knots the myriad elements together in time to successfully set up what should be a popular series.
— Krista Hutley
And here's the page in People StyleWatch with Witches of East End in great company! Woo!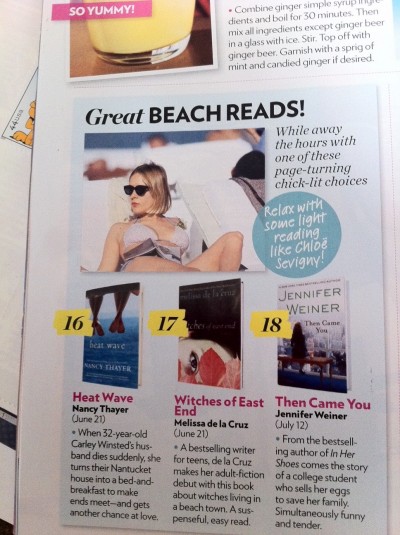 xoxo
Mel