Even though I now live in LA and Palm Springs and thus it is SUMMER ALL THE TIME, I cannot get out of the habit of FALL SHOPPING. Fall is the fashionista's favorite season, and it's just so fun to have new clothes for the "school year" even though one been out of school for a long time.
Lately I've been loving many things from THE ROW. Either I'm truly in my 40s (my birthday is in two weeks, but I've "felt" 40 since I turned 38) (apparently many of the Row's clients are 40+) or MaryKate and Ashley rule the world (most likely the latter). MaryKate was my inspiration for Schuyler's style in Blue Bloods (remember how she used to wear bandannas and long maxi ragamuffin skirts?).
Here's what I love from their line:
Brown silk "Judd" dress.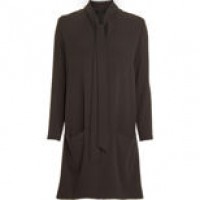 I wore this dress in Paris, for a date with my husband at Le Grand Vefour, the oldest restaurant in Paris, which was a favorite of Napoleon and Victor Hugo. It was fantastique and we had a fabulous booth in the main room. I wore Christian Louboutin nude heels and my "J. Lo" huge diamond hoops. I felt very sexy and fabulous. The food was a bit old-school and rich, but the experience was amazing.
The Fox-Fur vest.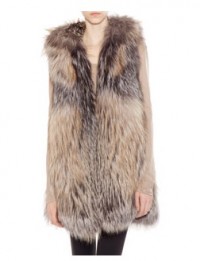 I was at Barneys with two of my super-stylish girlfriends and we were all drooling over this fox-fur vest from The Row. So freaking fabulous! None of us bought it though, it's the type of purchase you have to THINK about. I already have a bunch of fur vests from prior seasons (a white Mongolian Moschino and a leopard Adrienne Landau) so I feel like three fur vests is a bit MUCH.
Many of my t-shirts are from the Row, and I bought a couple of their hooded ribbed long cashmere cardis, just nice basics that you want to look really chic and refined and like you're not trying too hard (but of course YOU ARE! looking good means EFFORT).
For fall, I bought a classic Rick Owens biker jacket.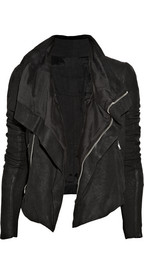 I already have a gray one and a black poufy leather one from "Rick" (which my husband said makes me look like a character from a Tim Burton movie—is that a good thing or a bad thing?) and I just wanted the classic one because my theme for this season is EDGY CLASSICS. Which is a departure from seasons past with have been RICH FLOOZY (30s), VACATIONING HOBO (mid-30s), or STRUMPET (early-20s).
I wore my Stella McCartney patent-leather nude slingbacks to DEATH last season and I just bought the green ones. We'll see how that goes. I haven't bought too many shoes. I did buy another pair of Roger Vivier flats because I agree with W magazine, the ballerina flat is just so OVER. I can't stand seeing yet another ballerina flat. (Which is sad because I own too many of them, but I'm retiring them for now. I feel like it's been DONE. Right?) W Magazine suggested "slippers" and J. Crew has these "Italian loafers" or there's always those Tom's espadrilles. But for now I think I'll try to make do with the Vivier.
The Vivier flats: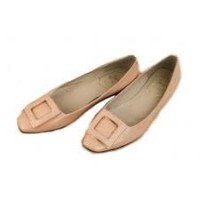 I like those Celine box bags, but they seem a tad overpriced to me. At that price point, why not just buy Hermes? But they are really cute, so we'll see. I haven't bought anything new bag-wise for fall yet. I think I'll keep rocking the Proenza messenger bag from two seasons ago. Although lately I've been schlepping around my black Longchamp nylon bag from Paris,  which all the chic Parisiennes were carrying, and so when I drag it around the valley, I feel like I'm back in the City of Lights.
The Black Longchamp. Part of the Paris uniform! And only, like $60 or something.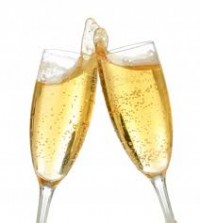 Happy Fall Shopping to All!
xoxo
Mel