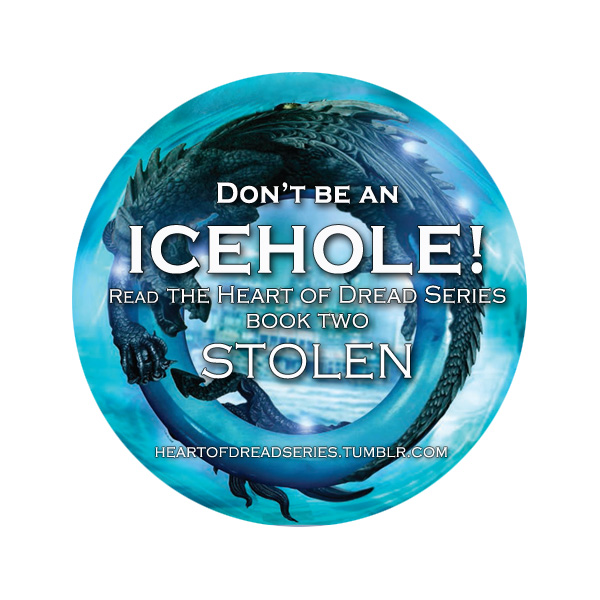 You like right? This is a sneak peek at the awesome ICEHOLE pins that we'll be giving away at Comic-Con!
Have we laughed our frozen behinds off? Shut the ice up!
This blog continues… (LOL)
My dear friend Alyson Noel, author of the Immortals and Soul Seekers series, tagged me in a blog roll where writers talk about their writing process.
WHAT AM I WORKING ON –
As usual I have a bunch of projects in various stages I'm working on, a few I can't talk about yet as they haven't been announced. But what I can talk about is that my husband and co-author of the Heart of Dread series are working on the second book, STOLEN right now. We're deep in revisions which is the hardest part of working on a book, when everything has to make sense. It's also a sequel, which is also difficult, because there are expectations from the readership as to what will happen in the story, and you want to meet them and subvert and surprise your readers at the same time. The only way to do it well, is as Britney Spears says, Work B*tch. You want a Lamborghini? You want a hot body? You want a rocking sequel? You better work b*tch.  🙂 
HOW DOES MY WORK DIFFER FROM OTHERS OF ITS GENRE?
I like to think it stands out because I have a very strong point of view and a life experience that is a bit different from other people's just by virtue of the fact that I grew up in a different culture. So there's something of a lighter tone in the sense of humor maybe, or a little bit of an idea about life that's not quite entirely of a purely American mindset. My vampires are set in the elite of Manhattan but they were mostly shaped by experience of growing up in a privileged and insular society in Manila.
WHY DO I WRITE WHAT I DO?
I like to write about societies, about a closed world, I think Ann Patchett said all writers sort of rewrite the same book, and I think I'm really interested in a person's place in society with strict rules of etiquette and expectation. Mostly because I grew up in a society like that, where there were unwritten rules about where you vacationed, whom you invited to your parties, what kind of menus were appropriate to serve on weekdays or on the weekends. My parents left us at home for six months one year and at twelve, I was in charge of the staff—I had to tell them what to serve for dinner every night. You know that scene in Master and Commander where the little lordlings are the one leading grown-up soldiers? I totally related to that. My childhood was very feudal when I look back on it.
So I write about court life, secret societies, but I'm also drawn to fantasy because more than any genre that's what I was drawn to as an American immigrant. In a way, fantasy was my introduction to American culture. I learned about America through Stephen King and Anne Rice. So I honor my background by merging the two.
HOW DOES MY WRITING PROCESS WORK?
 It's varied these days. I used to write a pretty strict outline, and I still do. But now I know that the book will evolve from the outline, as the book changes the outline does too. I always have to know the beginning, middle and the end when I start writing. But while I'm writing the book if I can feel like the end isn't working I'll start to rewrite the middle and even the beginning. It's like working with puzzles, with logic. Story logic. You need to see the plot holes and fix them as you write.
AND THE OTHER PART OF THIS QUESTION, HOW DOES MY WRITING PROCESS NOT WORK?
I've abandoned a few books that didn't work. I couldn't get the sequel to Angels on Sunset Boulevard to work. I just pulled it out again and tried to tinker with it. But there were these gaping plot holes that I just didn't know how to fix. I had a very clear idea of where the story had to go, but then I thought it was too dark, too seedy for the genre, so I abandoned it. I actually think I wrote myself out of YA on that sequel. So I didn't know how to pull it back. Sometimes a good premise doesn't lead anywhere. Mike and I had an idea for an alien invasion book that we just couldn't get to work and we tried really hard. We had about fifty pages that were great, then we were sort of like, HUH? Where does the story go from here? And we couldn't really answer that question so we abandoned it.
Up next – this blog roll tags my fabulous friends whose books I love—
Margaret Stohl, co-author of the Beautiful Creatures and its spinoff Dangerous Creatures, and the Icons series. Idols comes out July 8th. Icons is one of the most powerfully emotional novels you will ever read. I cried more than I did when I read TFIOS. Pick it up if you haven't yet!
Leigh Bardugo, author of the Grisha Trilogy. Ruin and Rising just came out and it just about ruined me for any other book this summer. I'm not going to give away any spoilers, but squeee. Loved the ending!
Christina Lauren is the writing team of Christina Hobbs and Lauren Billings. Together they write incredibly romantic and sexy books that you need to add on your shelf. Beautiful Bastard is their famous series, but my personal favorite is Sweet Filthy Boy and the upcoming Dirty Rowdy Thing. (How can you NOT love those titles?)
xoxo
Mel