We went to Santa Fe, New Mexico over the weekend for our annual NYC-gang trip. We have been traveling with the same close group of friends for many years now, and even with the coming of children we still try to get together once a year in a new city. It's sometimes difficult to agree on WHICH city, which leads to such stories as "The Ottowa Incident" (yes, the gang went to Ottowa: why, I can't tell you, but safe to say, that was a year when consensus ruled over reason. There was nothing to do in Ottowa but bicker. Although "there were some nice museums" someone will always add.) Anyway, Santa Fe was a glorious host city: the food was divine and while most of the art was quite bad (we are Art Snobs I'm afraid) we did get to visit the Georgia O'Keefe museum.
Being an Art Snob meant that like my friends, I was quite dismissive about Georgia O'Keefe: oh that lady who painted those huge flowers in a pro-vo-ca-tive way. Hmmpf. Sure, some people like them, but not moi, although it would be amusing to see them.
Well, I have a new appreciation for good old Georgia. First of all, when you enter the museum you see this AWESOME picture of her.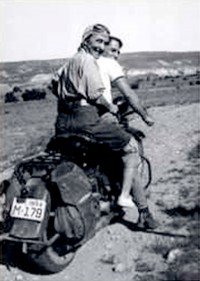 And she's about SIXTY years old in this photo! But look at her! With the flirty smile of an eighteen year old! But the lines of experience and wisdom that comes with age. Hopping on a motorcycle for a ride through the desert! As soon as I saw this photo I thought, I LIKE this woman.
Then we sat through this little documentary they made about her. I knew a little bit about her background (those PRO-VO-CA-TIVE flower paintings) and knew she had been married to the famous photographer Alfred Steiglitz, but I had no idea that it was HIS photographs of her that led all the art critics and the establishment to decide she was nothing more than a painter of "sensual" flora.
His intimate photographs of her caused a sensation and DEFINED Georgia to the world on his terms before she could do it herself. The photos are from their early life together, when infatuation is at its peak, and they are quite wonderful, really. But he was seeing her through this lens of early admiration and new love and while it's FINE for him to see her that way (as his lady lovah), it seems quite another thing for the WHOLE WORLD to see her that way, don't you think?  (He was also twenty-some years older than her, so there's another layer for you.)
Here is one that I can show. The rest are NSFW or NSFYAAUTHORTOSHOW.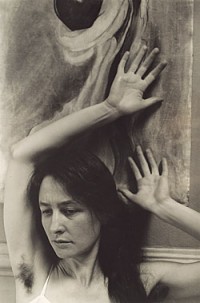 Georgia had her own exhibition of her flower paintings only AFTER this exhibition of photographs was already shown to the art world. And by then, because Alfred saw his lover as this sensual, sexual artist, the art world only saw her paintings through this lens, and decided those cool oversize paintings of flowers? They were all about girly parts!
Which was apparently NOT WHAT GEORGIA WAS GOING FOR AT ALL. She was experimenting with abstraction, with line and curve. NOT ABOUT GIRLY PARTS.
Here is one of her Manhattan paintings that I love.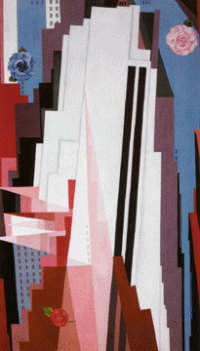 It was amazing to me that even if Georgia was so upset by what happened—her art DEFINED by a man—and HER man no less—before she could speak for herself—-she still married and stayed with Alfred and they were together for twenty years until his death. That seems like a lot of love and forgiveness on her part as well.
And it was only after his death and her move to New Mexico that she became known on her own terms. She forged this entire new career on her own, creating new work (those cool desert landscapes and the skull paintings) and having the world finally see her through her own eyes. Anyway, look at that GRIN on that motorcycle picture. Doesn't she look free?
Her story reminds me of that movie My Brilliant Career, where Judy Davis plays an aspiring writer who gives up the love of her life (Sam Neill) to write books because otherwise, she will be Distracted. The movie seems to say: You Can't Have it All. It's the Dude or the Manuscript. I remember watching that movie and thinking OH C'MON! You can have it all! At least, I'll try to!
With Georgia O'Keefe it seems she had it all—the dude and the art, she lived through the fire of art world put-downs ( the "provocative" label persists till today), and weathered it all, to emerge, in her late years, as a full-on desert warrior artist icon.
This is an iconic photo of the young Georgia taken by Alfred. Intense. Troubled. Sennnnssssual.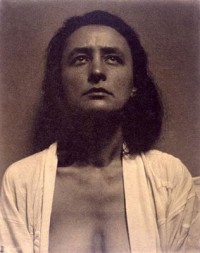 And here she is as the Icon of the Desert.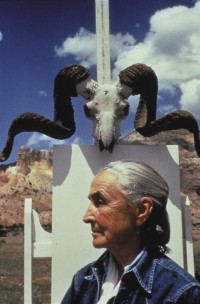 She looks pretty bad-ass right? I don't know about you, but I'm kind of looking forward to growing old. As long as I can do it the Georgia way.
Happy Monday all!
xoxo
Mel