This year I am trying not to buy so many clothes. Or at least do no more mindless shopping, which like mindless eating is the kind of shopping you do when, say, you're just taking the kid to her music class – but oh looky! There's a Nordstrom, how did that get there? And a thousand dollars later you are leaving with a shiny new Marc Jacobs cape which you have worn exactly ONCE. And no more buying stuff from Gilt.com before eating breakfast. But just because we are curtailing over here does not mean we are cutting it out entirely. The horror! There are so many great things for spring so I thought I would share them with you. I have thought long and hard about what I want to buy this season so that I am not as tempted to just buy, well, anything new and sparkly I see when I leave my house. Instead, let's call this meaningful shopping. In that desire is built in for a couple of weeks, debated through endless emails with like-minded fashionable friends, and then finally the coup de grace: PURCHASED! And hopefully worn more than once.
My friend Tom Dolby and I are obsessed with this lady who was featured in Domino who only had FORTY things in her closet – and that's all she wore and she was super-stylish. So you know: trying to do basics and not trends and to live and look more stylish than trendy. It's a hard thing to do for those of us who live and die by what's new (as Karl Lagerfeld said, "I have to wear what's new, it's my job."), but it's no longer my job to be on the cutting edge. There are way too many once-in-a-lifetime outfits in my closet than day-to-day savoir faire.
A navy-and-white striped t-shirt. It's a staple. I bought this one from Calypso. It's so comfy and very flattering. Looks great under a blue blazer with three-quarter sleeves (get your old J. Crew ones shortened at the tailor's) and a white silk scarf.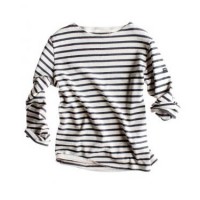 I am also loving scarves. I have a couple that are artsy and have lots of little bits hanging off it like those Balenciaga scarves from a few years ago. But I also just like a nice sheer silk scarf. Does many wonderful things for the neck. Mainly, hides it. Jigsaw makes some nice ones that aren't too expensive either. I like this one for the fun checker pattern.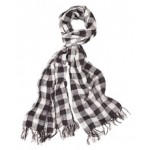 Although if you want to get fancy. This LV stole always "steals" the spotlight. My friend Minty was wearing one to a party the other month and all the girls POUNCED on it. The next day several of us had bought it. Something about that leopard against the pink, I think. And also the way Minty wore it: over a white tanktop and jeans. Tres casual. Like, this old thing? Pshaw. I always need my clothes to say something. Maybe that is my problem. But still: a gorgeous scarf. Guaranteed to make you the prettiest girl in the room for an evening.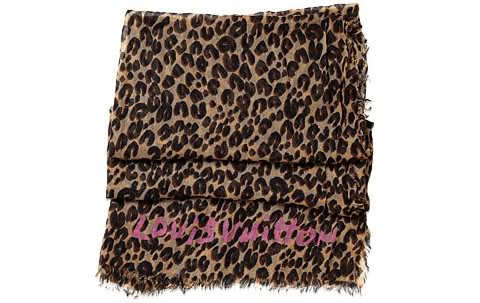 Lately I am wearing a lot of long sheer tunics and short Helmut Lang jackets over them. It makes you look so much thinner! Who needs to go to the gym? Well, we all do for our health. But you know what I mean. Sometimes you can do yourself no favors by just dressing fat. Try to dress thin. Long layers and skinny jeans seem to do it for me.
I love Alexander Wang t-shirts. Comfy, flattering and relatively affordable! Look how drapey they are. And they're very sexy on. Especially with leather leggings.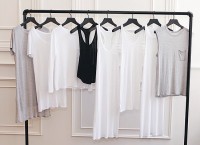 This year I cannot get enough of Stella McCartney's new collection. This jacket is insane. I have been obsessing about it for a month now with my friend Kam. Every day we email each other begging the other to buy it so that at least the other can live vicariously. Oh dear. I might have to capitulate. But only *for a friend.* You know? Ha! An upgrade to the J. Crew blazer.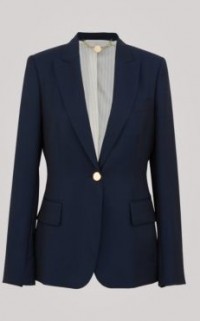 Well that's all I have in my closet today. Happy Tuesday everyone!
xoxo
Mel