This was the view from our hotel room. That's the Paris Opera—the fab building with the dome you can see from afar. I love the gray slate rooftops! It rained a few times while we were in Paris, which just made it MORE ROMANTIC. Heh! We stayed at the Ritz, which was like staying in a palace, it wasn't so much a hotel as a castle.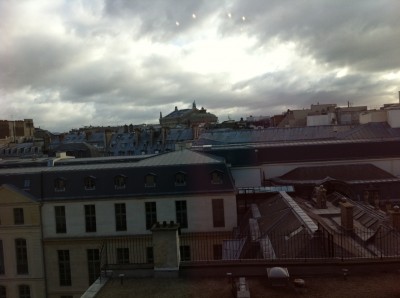 And here is the team from Anna Jarota, who handles my French rights. (I have French rights!)  That's me holding Bloody Valentine in French, with Anna, Raphael and Sandrine. Anna told me how with the Internet, the teens want everything NOW and they don't want to wait. They hear about a book published in the US and they want it in France too. Whereas, even ten years ago, that wasn't the case. In fact, for foreign sales, usually if something "sold" in France, no other countries would want it because the French were very specific about what they liked and didn't like, and they weren't the same as the rest of the world. She said when she sold a book to France it was called "the French kiss" ie, the kiss of death, because it meant no other countries would buy it. Isn't that interesting? But now all the teens are global and things have changed. It's a borderless culture these days…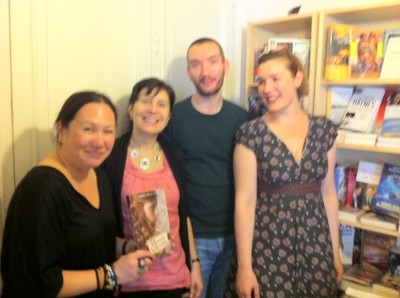 Here I am with my lovely editor Shaine Cassim (who is hugging me—love Shaine!) and my French translator, Valerie Le Plouhinec from Albin Michel! My publishers wanted to know how I found Paris, and I told them it was even better than the movies. But also that it reminded me a lot of New York, in that it was a modern, dynamic city, and so I felt very comfortable in the city. I felt very 'at home'. My books do well in France, they said, because French people like the whole cosmopolitan, fabulous angle of my books. A match made in heaven! Shaine also publishes Neil Gaiman in France, so I was very flattered. And Valerie spent her senior year in Los Angeles! So she understood all the American slang. My French publishers are awesome! We had drinks at the Hotel Bristol, which is the hotel from the movie Midnight in Paris. It was tres fabuleux!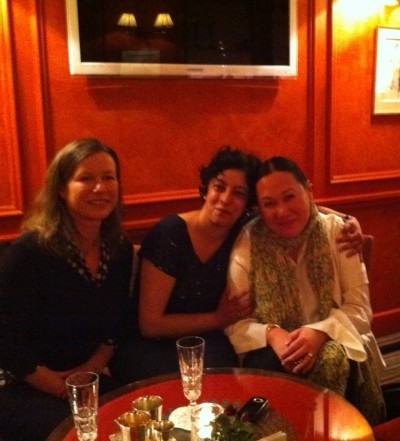 Albin Michel, my publisher, ran a contest and that's our winner on the end, and here are some nice French bloggers! (Froggers?) 🙂 Thanks so much for the pretty picture and the bottle of champagne guys!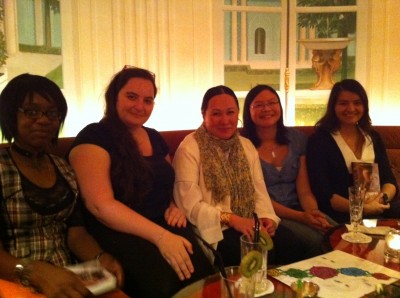 And when I got back, I had to do events for Witches of East End… and here's the display from Borders in Canoga Park!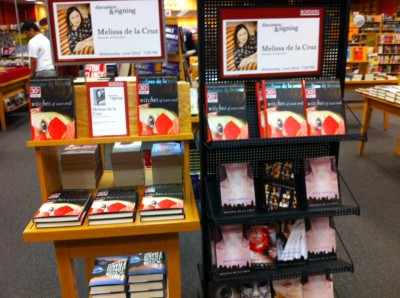 One of the great things about being "in public" is that sometimes old friends turn up! Here I am with my dear friend Molly, whom I last saw when we were fourteen years old! (She moved to LA and this was before e-mail.) Twenty-six years have passed!! Where did they go? When Molly and I were hanging out she was the coolest rocker chick I knew (and now she is the coolest rocker mom I know—I love when things never change!), before she left SF, she made me a Smiths mix tape (I still have it!). We were both Convent girls in San Francisco, but we spent a summer taking a nude figure drawing class in an art college in the city, which we skipped a lot to go shopping on Polk Street. Her daughter is a Blue Bloods reader. So cool! Molly, I promised I'd put it on the blog—here it is!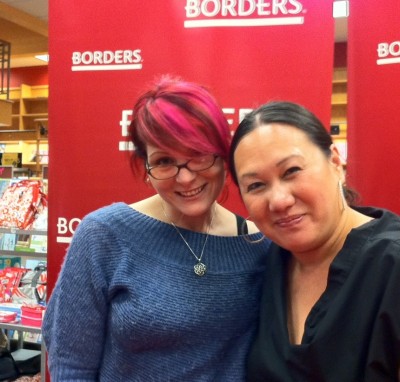 xoxo
Mel