So, on Friday night I am having a not-so-quiet dinner with my family in Palm Springs. We're out on the patio. Sinatra is playing. The kid is jumping up and down on her chair. Mike and I are just trying to eke out a little relaxamacation time after a busy week, and then my iPhone starts buzzing with all these emails flooding in…
They all say the same thing: Congrats!!! Heard about Au Pairs!! You must be so excited!!
Now since moving to Hollywood, and I mean it literally, we live smack in the middle of Hollywood, in the hills above Warner Brothers and the Disney studios, we see a flashing "NBC" sign from the living room and our cheese shop is next to the CBS studios, and yeah, ABC is down the block too. At the Cheese Shop we see a lot of actors from The Office. (Oscar is there a lot) and at our sushi place we always bump into cast members from Scrubs. It's funny to live in TV Land. Anyway, since moving to Hollywood a lot of our friends are now in "the business" (no one says "industry" anymore – considered gauche for some reason). Anyway, now it seems we know a lot of people who make our favorite movies and TV shows and it's nice because while we are in Hollywood, Mike and I are not really "in" Hollywood since he designs and builds houses and I write books (not screenplays). And we love hearing the gossip and all the background info, etc., but we are not obsessed because, it's not OUR business really. We're like the outsider-insiders. But anyway, I feel like things are about to change and I am going to get a lot more obsessed as the year goes on…
As all our Hollywood friends were emailing me… because as the author, I am of course, the last to know…
THAT THE AU PAIRS MOVIE HAS A DIRECTOR!!!!
RJ CUTLER!!!
He made the September Issue. One of my favorite movies ever. Up there next to Unzipped. Grace Coddington, I worship you. I thought Anna Wintour came out great in it too. I loved how she decided things so quickly. I wish I could make decisions like that.
Here is the man himself. With the woman herself.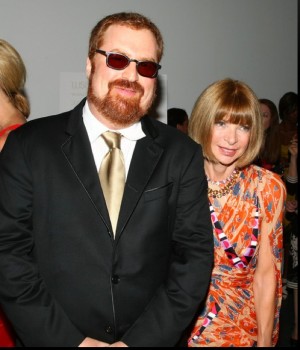 Here is the September Issue.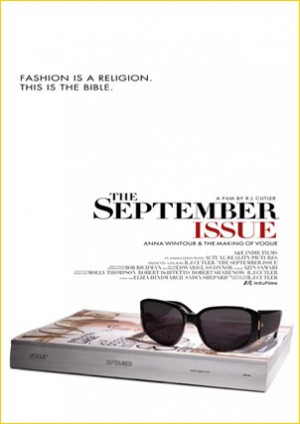 CA-CHUNK that is one fat magazine. The only thing that can be fat in Vogue is Vogue itself! Haha!
And here is the link to the Deadline Hollywood (Nicki Finke) piece that says we are shooting this summer in East Hampton.
Oh, and Girls Who Like Boys Who Like Boys is coming to the small screen as well! It's going to be a reality show on the Sundance Channel. For a while I was so peeved because it felt like everyone I knew in New York was getting a reality TV show. (Many of them on Bravo.) And where the hell was MY reality show damnit! Well, here it is! Finally! And here I am in Page Six.
Fun, right? I am really happy. But not as happy as I could have been if it had happened, say, ten years ago, when I was an arrogant little snit of a writer who thought the world was going to worship at my Christian Dior stilettos. If this had happened ten years ago, I would have been a little monster. I was puffed up with myself already (and I had not yet even achieved anything I had planned out to achieve—I was just CONVINCED, CONVINCED that it was all going to happen to me. Because I was a GENUIS! I was BRILLIANT! I was a STAR! The bestseller list. The adulation. The movie premiere. Hello!) But it took a lot longer to get to where I wanted to be, and along the way, my dad got cancer, and I had a baby, and I dunno… I guess I kind of grew up.
I just realize now that it is so much harder than I thought it would be. I hit the best-seller list on my fifteenth book. Au Pairs was supposed to be the "one" to do it, but we never did make the list, for some reason or another. And it took Blue Bloods a couple of years to catch on. And once something really awful happens to you—like losing your dad—I dunno. I love my career, and I'm awfully proud and excited if the movie happens, but I'm just different now.
Now when someone asks me why I'm happy, I'll say it's because my marriage is strong, my kid is great, and my mom and my sister's family and my brother and his wife and my extended family of in-laws and cousins and all my dear friends are all with me. I spent so many years chasing this dream of the Glamorous Life and the Beautiful People and like Simon Doonan (who has a TV show also! Just like everyone I used to know in NY), anyway, like Simon says, the Beautiful People are the ones that surround us.
Not to get so cheese-meister but you know what I mean. (This is such a random aside, but in emailing my editor today I came up with the word Chugly. Cheesy and Ugly. Chugly. Dontcha love it?)
And it does not mean I will not be stalking all the awesome celebs on the movie red carpet! As long as they are not chugly! Haha!
More news to come!!
xoxo
Mel