It's Oscar night which means traffic, traffic, traffic and staying as far away from Hollywood Boulevard as possible. At this point, I only watch the Oscars for the clothes… who really cares who wins anymore? My favorite movies never win. Except the year Lord of the Rings finally won. This year, I'm rooting for Inglorious Basterds, the best movie of 2010, funny, shocking, witty, suspenseful with awesome dialogue ("This is the German three!") and absolutely no chance of winning.
But who cares about the movies? Let's talk about the clothes!
One of my favorite Oscar dresses is Julia Roberts' Valentino dress. Just the perfect Oscar dress: elegant but interesting—very memorable. It's so simple and yet so good. When I got married in 2002, I was mulling having my bridesmaids all wear the ABS version of this dress. My BFF Jennie said DO IT! DO IT! WE'LL ALL BE JULIAS! But in the end I nixed the idea as I thought it would kind of make my wedding a joke. And hoo boy did I NOT have A SENSE OF HUMOR about my wedding. I was very much bridezilla in the end. So no Julia Bridesmaids for me. But every time I see this dress I remember that idea and picture them in it and I laugh.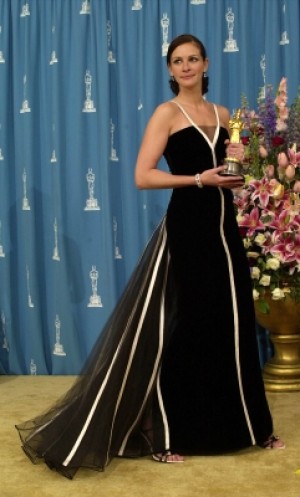 My next favorite Oscar dress is Michelle Williams' yellow Vera Wang. I thought she just looked STUNNING, and so stylish, with that flat-curled hair and those bright red lips, she looked amazing. What a happy moment for her and Heath right then—new parents, and the Oscars. The air of tragedy that lingers above this photo—showing a happy time that did not last, adds to its mystique I think. But really even without that the dress, the whole look, is crazygood.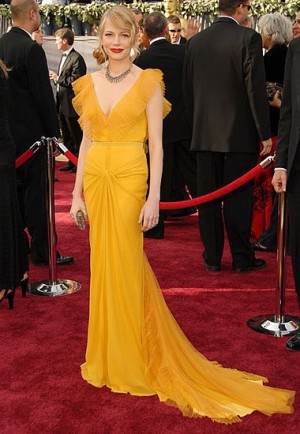 I also love Nicole Kidman in this green Galliano for Dior. I love the unexpected color and the chinoiserie styling. I think it's important to not look like some prom queen at the Oscars, but to somehow find a dress wherein you look like yourself, only different, only better. Too many actresses show up in those unfortunate cupcake dresses, which I think is due to the girly-gene bred into our DNA. I myself wore a cupcake dress to my wedding. When I look at my wedding dress today, I feel affection for it, but part of me wishes I had worn a severe Helmut Lang dress or a simple sheath instead, dresses that were more flattering to my profile. I look SO MUCH better in the simple black Martine Sitbon dress I wore to the rehearsal dinner, with my hair down. But no, for some reason, I had this idea that I had to look like CINDERELLA on my wedding day. So I had my hair up and everything. Disney has a lot to answer for, as I'm sure we'll see a lot of cupcake dresses tonight.
But here is Nicole during the Nicole and Tom years.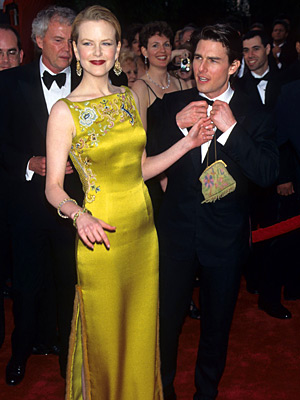 I also love Madonna in the white fur and white gown at the 1991 Oscars. Channeling Marilyn Monroe, and with the perfect accessory on her arm—Michael Jackson! I am on the generation of women and gay men who think Madonna can do no wrong. The marvelous Miss M. Worship!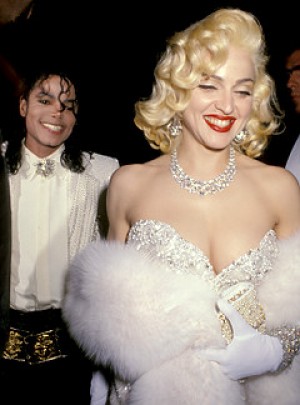 The Oscars is so boring now because no one wears anything interesting. Cupcakes on parade. I love Bjork in the swan dress by Marjan Pejowski, just because, why not? Interesting, a personal statement, of course she thought people would make fun and would not get it, but did she care? HELL TO THE NO. I once wore a Bernhard Wilhelm jedi dress, a dress that made me look like a space alien, to the Webby Awards (the Oscars' dingy dingy DINGY little cousin) ten years ago, when the little fashion website my friends and I started was nominated. We lost to Paper that year. (We won two years later, finally, but that year none of us went. We were tired of losing. Oh well!)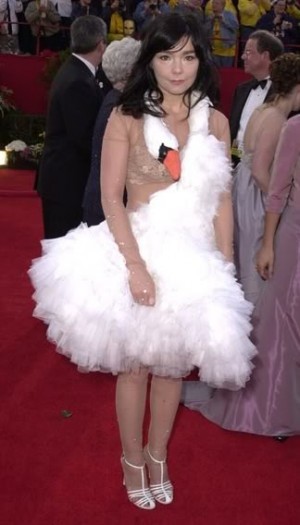 Of course you cannot talk about crazy dresses at the Oscars without talking about Cher. 1986. Bob Mackie. Excellent!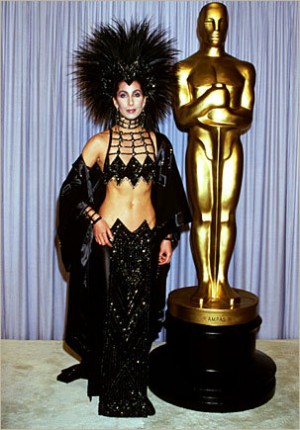 That about does it for the Oscars. I also love Feminista's take on dressing Gabby for the Oscars. It will be SUCH a shame if no designer steps up to outfit the glorious Miss Sidibe. A real CRIME OF FASHION. But I know that whatever she will be wearing, it will be interesting, a personal statement, and all HER. Say no to the cupcake!
xoxo
Mel