The Smart Chicks hit Menlo Park yesterday evening! It was a fun night, with lots of questions from our readers. They asked us what was our worst kiss, and I remember that a lot of people's worst kiss was their first kiss, also that Kami and Melissa might have worst-kissed the same boy named Dave (sorry Dave). We gave away t-shirts and swag, and heard about fun news: Melissa Marr has new Wicked Lovely MOVIE news that she will be able to share soon, Kelley Armstrong's YA series will go to 9 books, Alyson Noel's new spinoff series, Radiance, hit the USA Today and NY Times best-seller lists, Kimberly Derting will have more Body Finder books, Kami Garcia and Margaret Stohl's sequel to Beautiful Creatures, Beautiful Darkness, will be out Oct 12. I didn't really have any "new" news, I just reminded everyone that Misguided Angel comes out October 26th, Bloody Valentine is out December 28th, and Witches of East End is likely to be out around May or June 2011. As for more than that, Fall 2011 brings the Blue Bloods graphic novel as well as the sixth Blue Bloods book, and Wolf Pact comes out April 2012. Phew!
We were interviewed by a bunch of fun bloggers in a tiny little room in the back. Here we are looking cozy with a cute blogger.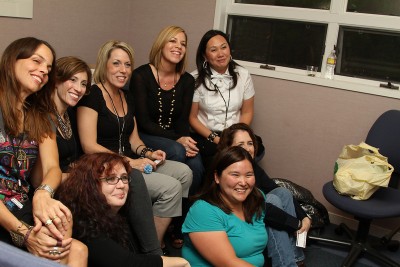 They asked Melissa Marr how she got everyone to do the tour, and she said it was easy – she was worried she would have to bribe people but everyone was so enthusiastic. With authors, we never get to see each other enough, and while I feel like I know Melissa, I've never met her, and it was awesome to finally meet and hang out.
Here's our awesome crowd!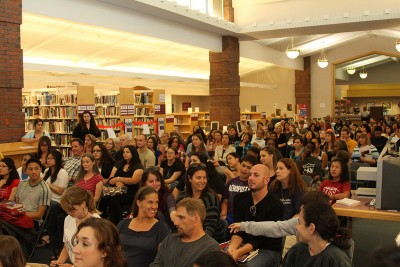 Moi In Chanel. Oh yeah. I bought the shirt last year and never got to wear it. Ta-dah! Cuff is Hermes. Ring is Dior. Figured I'd share. I used to do fashion captions so you know, it's a habit that never dies.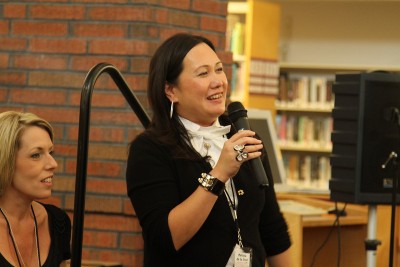 Melissa Marr and Kelly Armstrong, the faery godmothers of the Smart Chicks tour! (Although maybe Kelley is a necromancer godmother? Hmm.)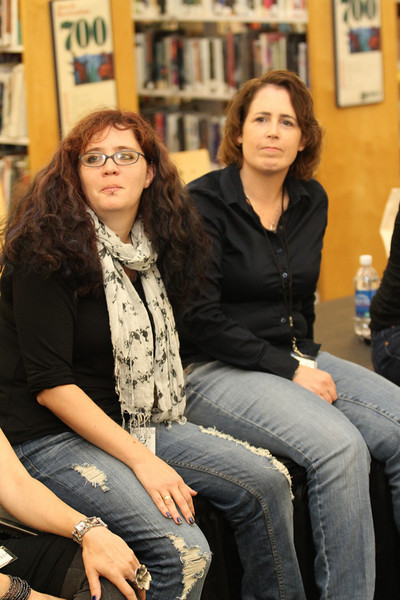 The lovely Alyson Noel, who RADIATES charm. (Okay my puns are bad I know.)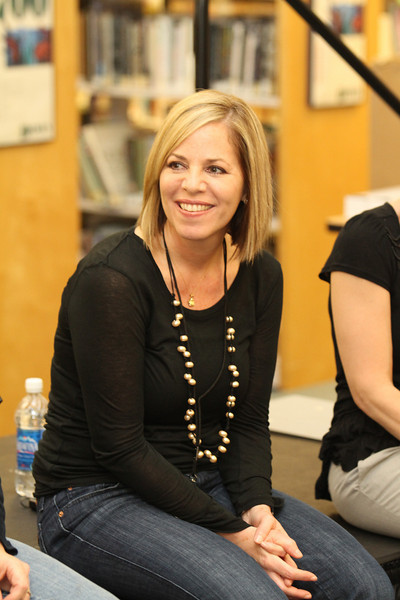 The cool Kim Derting, who knows where all the bodies are hidden.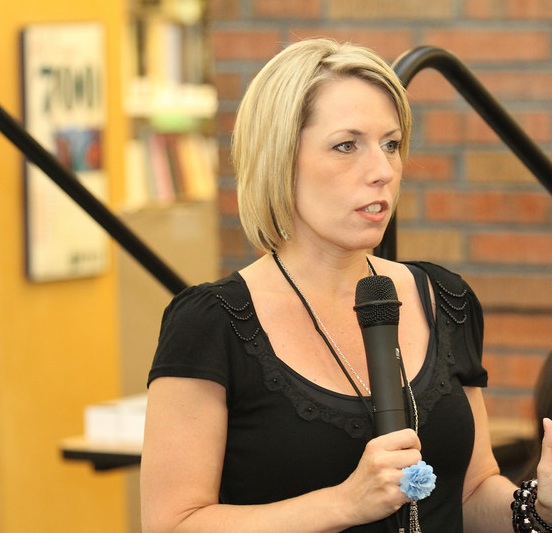 Margie and Kami, the goofballs on the tour. Apparently I missed the hilarious antics of Sarah Rees Brennan. I'm sorry I missed the undie-swimming. Otherwise known as Scandal in Jackson, Miss.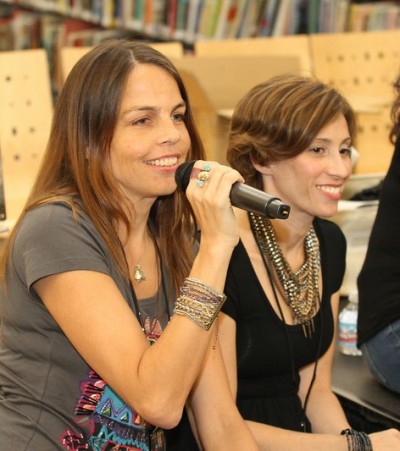 Tomorrow we hit the downtown Vroman's in Pasadena at 6PM! We say good-bye to Kim and say hello to Rachel Caine, Rachel Vincent and Mary Pearson! See you there!
xoxo
Mel
**All photos by Vania Stoyanova, VLC Photo.