Friends are so important for a happy life, and I am so blessed to have so many wonderful friends. I have old friends from college who remember me from my class president/club kid days, friends from the fashion and magazine world who remember me from my crazy-obsessed-fashionista-who-would-die-to-get-photographed-by-Bill-Cunningham days, mommy friends with whom I can commiserate on the difficulties of marriage and child-rearing (SO difficult! which is why you need mommy friends to complain to), and lately I have been lucky enough to have become friends with a wonderful group of writers. I've never had very many writer friends (outside of the journo and fashion worlds) and I'm so happy to have gotten to know the lovely ladies (and a few gents) from the YA world. What a fun, funny and supportive bunch! And whenever I get the chance to see them, I JUMP.
I'm here in San Diego for my pre-sell tour for Witches of East End. Here's the view from my hotel of the San Diego Harbor. Loverly.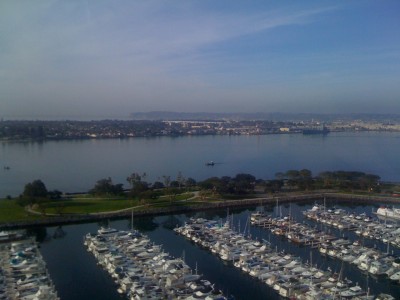 It was fun meeting everyone at ALA Midwinter conference – I can't wait to hear what you think of the book!! And a few of my writer friends were holed up in a villa overlooking the sea.
Here they are!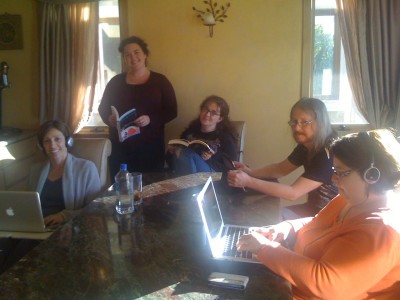 L-R Kami Garcia of Beautiful Creatures fame (note headphones and cute smile!), Carrie Ryan (Zombie queen of Forest of Hands and Teeth stardom) holding up an ARC of Witches (thanks Carrie!), our fabulous den-momma Melissa Marr (who is Wicked and Lovely just like her awesome dark-faerie books), Cat Caine (sweet artist hubby to Rachel Caine) and Rachel Caine (vamp goddess of Morganville Vampire acclaim, who is in the zone in this pic, Rachel gets up at 5AM to write, she is a PRO).
Anyway, it was a fun day full of writing and gossip with friends…and tonight I get to meet some booksellers and talk up my book… and maybe make some new friends!
xoxo
Mel